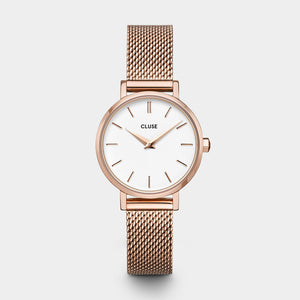 Cluse La Boheme Petite Womens Watch with Rose Gold Case, White Dial and Rose Gold Plated Stainless Steel Mesh Strap
The refined style represents sophistication and elegance in its purest form. Small size, big dreams. With its refined 28 mm case, our Bohème Petite collection is your perfect companion if you prefer a smaller, understated timepiece.
Featuring a matte white dial and gold coloured case & strap, you'll always be on-trend with this classic colour combination. A watch built to last thanks to its stainless steel case and mesh strap.